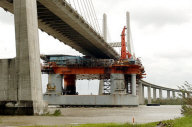 An oil rig that broke loose during Hurricane Katrina is wedged under the Cochrane Bridge in Mobile, Alabama. The rig tore free of its moorings as the storm lashed the Alabama coast before surging downriver and smashing into the suspension bridge.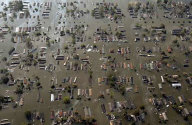 Water surrounds homes just east of downtown New Orleans on Aug. 30, the day after Hurricane Katrina made landfall.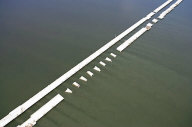 Sections of the I-10 bridge east of New Orleans which were damaged by Hurricane Katrina are shown in this aeiral view in New Orleans, Louisiana.
A damaged neighborhood in Gulf Shores, Ala.
Boats damaged by Hurricane Katrina are stacked on top of one another in New Orleans.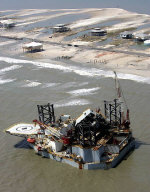 An oil platform ripped from its mooring in the Gulf of Mexico rests by the shore in Dauphin Island, Ala., after hurricane Katrina passed through the area.