(This text is a little boring. All the pictures are at the
bottom of the page
.)
---
We're Off!
I got up around 6:00 am to catch the plane to Kathmandu, the capital of Nepal. Actually, the flight was Tulsa, Houston, Los Angeles, Seoul, Bangkok, Kathmandu. We picked up Mike and got to the airport in plenty of time for the 8:55 flight. Unfortunately, we were on the 6:35 flight. So Mike and I spent the night in Los Angeles and showed up Kathmandu a day late. This was OK because we didn't start hiking for another day or so. We had a day to tour around Kathmandu for a day or so before the hike started.
Some interesting things about Nepal, aside from the normal tourist stuff:
Electricity goes off for an hour or two per day, twice a day, around the peak usage times in India. Stores stay open, some with candles, some with generators, and some in the dark.
There are bicycles, motorcycles, cars, buses, trucks, pedestrians, and animals all over the streets. Somehow, things keep moving with minimal loss of life and property.
It is common to see 20 or more people in, on, or hanging on to 7-passenger vans.
Kathmandu has a distinct odor -- some combination of incense, smoke, pollution, food, and sewage.
People are courteous when driving, but thousands of horns are honking constantly. The horn honking dissipates but doesn't disappear at night. Lanes in the road are nebulous concepts.
Cell phone and internet service are available almost everywhere.
Here is some background information on Nepal. This material will be on the exam:
There are around 30 million people in Nepal. About 10 percent are in Kathmandu.
Nepal is slightly larger than Arkansas with 10 times the people.
More than 90 percent of Nepal's electrical generation is hydroelectric.
Nepal has few highways and no railroads. Many villages are inaccessible by car.
Most of Nepal's fuel is imported from India by tanker truck.
Nepal has 47 airports, but only 10 with paved runways. Arkansas has about 95 airports with paved runways.
Last June, the King of Nepal vacated the throne after a new constitution and elections brought the Maoist party into power. The Maoist party is considered a terrorist organization by the U.S. government, which is pretty dumb.
Around 40 percent of the people in Nepal are officially unemployed, and about 3/4 of the work force is in agriculture. Most of the farming is done without machinery.
Nepal religions: Hindu 81%, Buddhist 11%, Muslim 4%, Kirant 3.6%, other 1%
The most common language is Nepali, the primary language for 48% of the population.
The literacy rate in Nepal is 49% overall, 63% for men, and 35% for women.
The average person in Nepal makes 10 to 30 times less (depending on how you calculate it) than the average U.S. resident.
---
Where We Were
We were in Nepal, southwest of Mount Everest.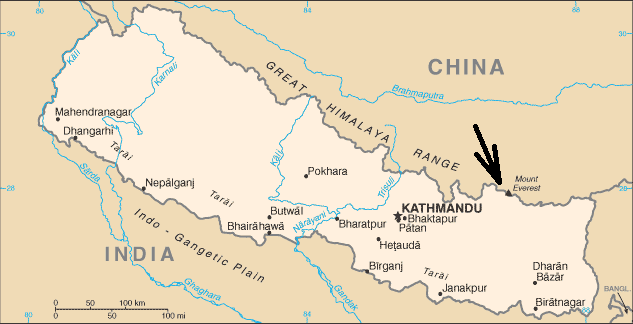 Here's where we hiked. At least it's where I hiked. I may have taken a few shortcuts and optional nature trails.
Download the Google Earth Track
---
Lukla
We got up at 4:30 to catch the plane to Lukla. The domestic flight section of the Kathmandu airport was really weird. It all seemed disorganized and confused, with a few hundred people being herded around like cattle, all in a big rush. I've never seen an airport like that. When we were on the plane, we missed a couple people and some of our group had to go back and hunt through the security area for them.
We eventually all got on a twin-otter for the short flight to Lukla. The plane was 28 years old. It was noisy. The seats folded up against the wall so the plane could carry freight when it wasn't full of people.
The Lukla airport is at an elevation of 9100 or 9380 feet, depending on which end of the runway you're on. The runway is 1600 feet long with an 11.75° incline, one way in and one way out.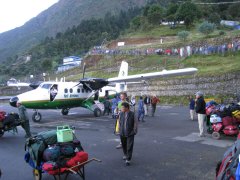 Five days after we landed at Lukla, our plane crashed at the runway and killed 18 out of 19 on board. Shortly before they landed, some clouds or fog rolled in. They tried to land anyway. The landing gear apparently snagged a fence at the approach end of the runway. One other report didn't mention weather, but said they hit a rock on the runway and flipped on landing.
http://aviation-safety.net/database/record.php?id=20081008-0...
---
Phakding
8,630 feet, 4.8 miles
From Lukla we hiked downhill (and uphill and downhill). Yaks carried our 40 lb duffels, and we carried a daypack with some clothes, cameras, books, etc.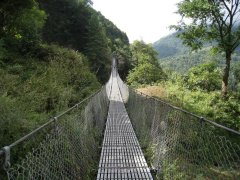 The lodge was better than I expected - we had two beds, a bathroom, electricity, and a big river in the front yard. But there was no heat. This was true in all the lodges and even in the hotel in Lukla -- no heat in the rooms.
Jeff Greenwald and I hiked up to a Buddhist monastery about 45 minutes above our lodge. We met two guys (monks) and a dog there, one 20 and one 16. I'm not sure how old the dog was, but it was a mastiff. They opened up the temple for us to look around, and they fed us some tea and crackers. They were really nice. About 25 people live there.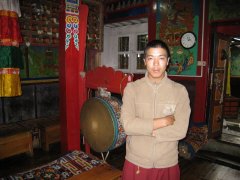 ---
Namche Bazaar
11,430 feet, 5.8 miles
We hiked up almost 3000 feet. The trail is pretty wide, and is made of rocks most of the way. Local people, tourists (trekkers), sherpas, yaks, donkeys, horses, and the occasional cow use the trail. There is no motorized transportation, except maybe for helicopters. The trail was pretty busy.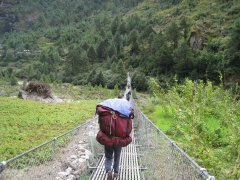 The river comes down from Everest and some other mountains in the area. I don't remember ever seeing a river move that much water that fast. Namche Bazaar has internet cafes and cell phone service.
We stayed in tents. We had a tent for a toilet, with a small hole in the ground, and there was an outhouse near our tents if we preferred a building. The outhouse only had a hole cut in the floor. A small hole, by my standards. Both toilets were pretty bad, because it's really hard to hit that hole in the middle of the night when you have diarrhea like I did. I laid off most food for a day or two and got over it.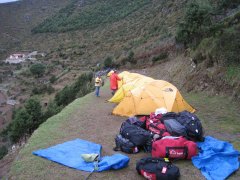 ---
Khumjung
12,340 feet, 3.3 miles
We hiked up and had a look around at a viewpoint, then over to the Namche airstrip. It is about 1200 feet long at 12,200 elevation, one way in and one way out. Not many planes can take off on that.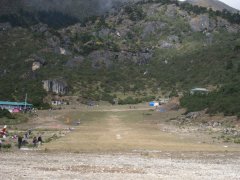 There was a Pilatus Porter taking skydivers up for some world-record jumps from 29,000-30,0000 feet. I think the records were the high landing elevation, not the high jump altitude. They would make two or three trips in the morning, and stop when the clouds rolled in. While we were there Maggie was interviewed on Danish TV.
However, the day we were there they stopped one flight too late. They jumped and the clouds were obscuring the runway, where the skydivers were supposed to land. Some of them made it to the runway, but Carrie Holmes ended up over the ridge. She broke her ankle (compound fracture) and her back.
A crowd of people were around helping, including Jeff Greenwald holding her head. Some sherpas carried her back to the airport (a half mile or so) and she was helicoptered out. She ended up spending 15 days in the hospital at Kathmandu. The Pilatus Porter couldn't land at the airstrip because of the clouds and had to go to Lukla or Kathmandu.
http://www.everestskydive.com/blog/ (This link may be invalid.)
Carrie's blog:
http://blog.positiveliberty.org/ (This link may be invalid.)
Skydiving pictures:
skydive
This was an easy hiking day. All our sherpas live in Khumjung. We stayed in a lodge, but as with most lodges, there was only one toilet and one shower for everybody. The place was clean, though. That was a luxury we wouldn't find in most of the future lodges.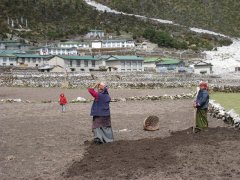 For our group of 15 people, there were about 20 support people, including kitchen help, sherpas (guides), porters, and yak handlers. This seems extravagant, but it costs very little per person per day. I was happy to have my bag carried on a yak. I could have gotten by without as much support, but it made for a nice trip.
---
Devoche
12,300 feet, 6.7 miles
Tent time! There was a brand new lodge next door with plenty of room, and a couple of the group abandoned their tent for a room there.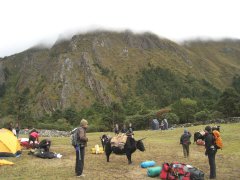 After staying in tents here, the group voted to stay in lodges for the rest of the trip instead of tents.
There is a lot of yak manure on the trails. In fact, they use Yak patties for fuel for cooking, etc.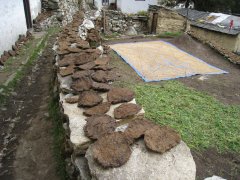 There is a lot of sewage everywhere. There is very little plumbing, and no sewage treatment, septic tanks, or lateral lines. Sometimes they run the sewage from a toilet to a field for fertilizer in a ditch. Sometimes they shovel it. So, for example, if your shoe comes untied, then you tie it, you're liable to have some nice enteric bacteria on your finger next time you pick your nose.
---
Dingboche
14,200 feet, 5.5 miles
This lodge was a bit on the filthy side, at least as far as the room and toilet goes. The dining area wasn't too bad, unless you consider what people tracked in from the toilet.
We stayed here two nights so we could have a rest day. So Mike and I climbed up to 16,300 feet toward Island Peak on our rest day, 8.4 miles round trip. That was a pretty good working, considering the altitude. It was almost 2000 feet higher than either of us had ever hiked.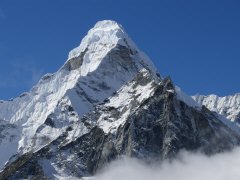 We were going really slow, taking small steps and being careful not to breathe hard. But at around 16,000 feet enthusiasm won out over good sense and self-control, and we took off on a steep, cross-country climb up to the top of a ridge. We followed the ridge for a while with unbelievable views of the high Himalayas in every direction. We got to a point where we would have to descend a few hundred feet in order to keep climbing, so we turned around.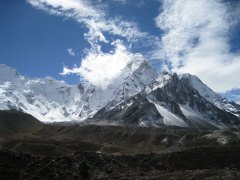 Anthony Sandberg wasn't feeling so well for the hike to Dingboche, so he stayed halfway at our lunch stop and hiked into Dingboche the next morning.
Leo Le Bon, the leader, got sick at Dingboche and went to the clinic in Periche. They doctor ordered an immediate helicopter evacuation to Kathmandu. Nadia and Alex (wife and son) went with him. He had recovered pretty well by the time we got to Kathmandu.
---
Lobuche
16,160 feet, 5.9 miles
Anthony decided to stop halfway to Lobuche at Dughla, which is good because he had pulmonary edema. He was evacuated by helicopter to Kathmandu and recovered.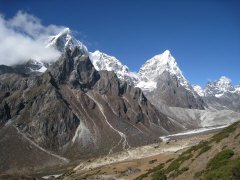 Lobuche had a good, clean lodge, but the rooms were really cold. Things froze inside the rooms. This was the highest I had ever slept. I had some of the suffocation sensation that happens at high altitude when you breathe too slowly when you're asleep. You wake up with a start and feel like you're not getting any air. Then you breathe for a minute or two and you're back to normal. I felt like throwing things when this happened, but I was inside the sleeping bag and couldn't reach anything without battling the zipper.
---
Gorak Shep
16,980 feet, 9.2 miles
We hiked up to Gorak Shep and about six of us went on to the Everest Base Camp at 17,480' elevation. It was pretty interesting. It was not dirty and messy like I had heard. Maybe that is the upper camps, or maybe they've done some cleanup. There were two or three groups on Everest. One, the Italians, had just turned back from the top because of weather. There are a lot more tents there in the Google Earth image.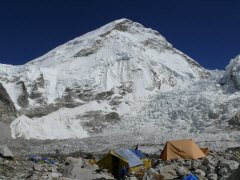 It was a long hike from Lubuche to the base camp and back to Gorak Shep. Jim overdid it a little, and he and Sal ended up taking a helicopter out from Lobuche a day later.
---
Lobuche
16,160 feet, 6.1 miles
We took off at 5:30 for Kala Patthar, a minor summit at 18,500 on the ridge up to 23,494-foot Pumori. I took off at 5:36, and took some timeout for stretching in the dry lake bed. But I made it to top before the sunrise. That was pretty cool. In fact, it was 5°F when we started hiking up. I didn't notice the cold so much, maybe because I was working. I wore light gloves and tennis shoes.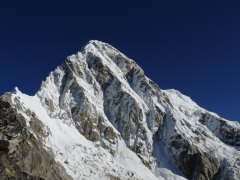 After Kala Patthar we hiked back down to Lobuche. I hiked around there for a while, climbing up over a ridge, and found a lake complete with a sandy beach.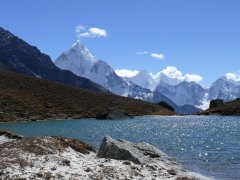 After Jim and Sal flew out, 6 of 15 in our group had evacuated, two with life-threatening conditions. Jeff Greenwald and Brian Sokol were assigned to write about and photograph the trip for Outside Go magazine, about luxury trekking and Leo's 40th anniversary trek. But since Leo was evacuated, and since the trek was not as luxurious as some had imagined, the article didn't turn out quite as planned. Maybe we'll see it in the JAMA.
---
Pangboche
12,780 feet, 10.1 miles
Air! I never thought 12,000 was a low altitude, but there is a lot of air at 12,780 compared to 16,000. Jeff and Christina headed off on a side trip, and our group was down from 15 to 6 people. I took a "shortcut" and saw about 15 pheasants at 16,400 feet elevation.
---
Namche Bazaar
11,430 feet, 7.6 miles
Back at Namche, with a room and a shower this time. We even had private baths!
---
Lukla
9,363 feet, 10.2 miles
Mike, Brian Sokol, and I hiked down to Lukla from Namche. Some of the others stopped at Phakding, about half way, and arrived at Lukla the next day. One porter carried Mike's and my bags plus some other stuff, over 80 lbs total. That was very nice of him.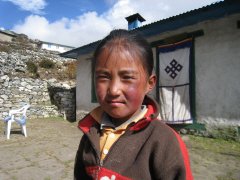 Mike and I got to the airport about 7:00 to try and catch an early flight, so we could try and catch a day-early flight to the U.S. We got out of Lukla about 2:00 in the afternoon, and then waited two days for a flight to the U.S.
---
Kathmandu
Mike and I rented a car for the day and went most of the way across Nepal. A driver came with the car. I couldn't rent one and drive it myself. It's hard to believe that stories of my driving have reached Nepal.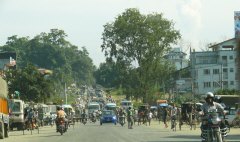 ---
All the Pictures
Click on any of the following to see all the photos for that place. I included blurry and otherwise "poor quality" pictures if I liked the content. If you can't see it clearly, use your imagination.
Back to xpda.com