U.S. Patents -- Stifling Innovation
Some Recent Patent News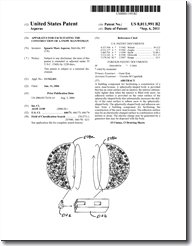 Patent troll Innovatio claims that every business that offers free wifi to its guests is infringing on their patent and owes them thousands of dollars, from coffee-shops to large hotel chains. They say that while individual wifi users are also infringing, they're nice enough not to sue them. They are demanding a one-time payment of $2,300 to $5,000 from several hundred companies, in hopes that it will be cheaper to pay up than hire a patent attorney.
http://www.theinfoboom.com/articles/innovatio-ip-plagues-sma...
http://wifinetnews.com/archives/2004/10/hotspot_operators_fa...
Fotomedia sued for patent infringement because they have online photo galleries. I have online photo galleries too, and probably did long before this patent was applied for. It's non-novel and nontrivial.
http://www.techdirt.com/articles/20111001/00473816162/facebo...
With an apparent downturn in real business, Kodak got into the action too, suing Shutterfly and threatening Flickr and Picasa for infringing on patents for displaying images online.
http://www.bbc.co.uk/news/technology-12050694
East Texas judges are well known to support the "stupid patent" industry. One East Texas judge significantly increased the award a company had to pay after the CEO was quoted in a newspaper criticizing the U.S. Patent System. So much for Freedom of Speech. It's not a problem, though, since the CEO is from Taiwan.
http://www.techdirt.com/articles/20111005/11133116225/judge-...
Samsung developed a new phone using the Adroid system, called the Galaxy Nexus. This was considered a big deal because Samsung researched a myriad of Apple patents and designed the phone so it didn't infringe on any of them, even the most obvious ideas. The patent system was intended to foster innovation; instead, it keeps people from developing new products because the USPTO commonly issues patents for simple, obvious, and overly broad ideas. And ideas are not even supposed to be patentable -- inventions are.
http://www.geek.com/articles/mobile/samsung-galaxy-nexus-doe...
http://english.yonhapnews.co.kr/business/2011/10/19/26/05010...
It is an impressive accomplishment to build something as complex as a telephone without infringing on someone's patent. Microsoft and Motorola are suing each other over 35 patents regarding their smart phones.
http://yro.slashdot.org/story/10/12/26/1410223/Microsoft-Mot...
Speaking of overly broad, simple ideas, Amazon received a patent on "Customizing Gift Instrument Experiences for Recipients", which allows a gift card giver recommend items via the gift card and restrict the types of things the card can be used to buy. It is an improvement, however, because it this patent requires two clicks.
http://news.slashdot.org/story/11/10/26/1926259/amazon-paten...
Not to be outdone, Apple received a patent on its "Slide to Unlock" way of turning on an iPhone or iPad. That is so simple a 9-year old could have developed it, and probably has at one point or another. But according to the mental giants of the U.S. Government, it is novel, nontrivial, and not overly broad.
http://www.forbes.com/sites/timworstall/2011/10/27/apples-sl...
But then, 9 more physical gestures have been issued patents by the U.S. government:
http://io9.com/5808604/10-physical-gestures-that-have-been-p...
The recording industry has patented legalized extortion, when they file a lawsuit naming, or more accurately, not naming hundreds of defendants in a lawsuit, and then sending out hundreds of settlement letters demanding a payment of a few thousand dollars in order to avoid a huge lawsuit. Now patent trolls are getting into the act.
Lodsys is threatening a bunch of independent developers who write applications for Apple products, because they claim that Apple infringes on their patent in their API. Never mind that the patents are stupid simple and have been common in software for years.
http://www.techdirt.com/articles/20110513/10205514264/patent...
This may seem pretty dumb, but U.K. app developers have been withdrawing their apps from the U.S. market because of the patent lawsuits.
http://www.guardian.co.uk/technology/appsblog/2011/jul/15/ap...
Microsoft lost a couple of court battles involving the use of the XML markup language, which is supposed to be in the public domain. Microsoft was considered guilty because in Office 2007 they "manipulated a document's content and architecture separately." The patent troll involved, i4i, failed in the software business and started suing people for a living. The 30-person Canadian company won a $200,000,000 judgement (in an East Texas court), which Microsoft doesn't agree with. I don't agree with it either.
http://news.cnet.com/8301-10805_3-20054480-75.html
http://arstechnica.com/tech-policy/news/2011/04/microsoft-ur...
Patent troll Intellectual Ventures claims to hold 30,000 patents. In the past, Intellectual Ventures has pressured potential lawsuit victims to invest in the company, attracting some large investors. Now they've started suing just about everybody under the sun. Naturally, Intellectual Ventures is a company that produces nothing but lawsuits. They stifle the innovation that patents are supposed to protect.
http://online.wsj.com/article/SB1000142405274870349350457600...
Google bought into Intellectual Ventures to avoid their lawsuits. Google is in the process of buying Motorola. Intellectual Ventures sued Motorola almost immediately so they could get their lawsuits in before Motorola was part of Google. This helps promote innovation as the patent system is supposed to.
http://www.techdirt.com/articles/20111006/12275316237/intell...
In a ruling that promises to not only stifle innovation but cost lives, a U.S. Court of Appeals in Washington decided that companies can patent medical diagnostic tests. These are concepts, not inventions, but they can now be patented anyway. Once upon a time, "laws of nature, physical phenomena, and abstract ideas" could not be patented, but this has now been changed. It's almost like someone in pharmaceuticals has been paying politicians.
http://www.bloomberg.com/news/2010-12-17/diagnostic-tests-ca...
The Supreme Court has agreed to hear this case.
http://www.patentlyo.com/patent/2011/06/supreme-court-to-rev...
The Alzheimer's Institute of America doesn't reveal much about its organization, but it is famous for suing medical researchers for patent infringement. That's a great benefit to society.
http://www.nature.com/news/2011/110405/full/472020a.html
The U.S. ambassador to the U.N. clarified the position of patents in the U.S. She said that protecting patents and copyrights is more important that development.
http://www.techdirt.com/articles/20101220/01525812337/us-amb...
A good example of stupid patents hurting innovation and development is the shutdown of popular flight planning web site RunwayFinder last year. FlightPrep was awarded a patent for generating travel plans on the internet. That's a bit broad in anybody's book, not particularly novel, and definitely falls under the heading of "trivial." Runwayfinder is back online now. I don't know the details of their agreement with FlightPrep.
http://www.avweb.com/eletter/archives/avflash/1793-full.html...
Microsoft wants to patent fans.
http://techflash.com/seattle/2011/01/microsoft-applies-for-p...
Microsoft cofounder Paul Allen is suing Apple, Google, Netflix, AOL, eBay, Office Depot, OfficeMax, Staples, Yahoo, and YouTube for patent infringement, for using a browser to navigating through information, managing a user's peripheral attention while using a device, and alerting users to items of current interest.
http://arstechnica.com/tech-policy/news/2010/12/microsoft-co...
Gooseberry Natural Resources sued Slashdot, Digg, Reddit, Fark, TechCrunch, and others for issuing online press releases, a slightly broad and obvious concept. And Slashdot was at it long before Gooseberry's patent was even applied for.
http://www.techdirt.com/articles/20110113/03334712652/reddit...
http://www.techdirt.com/articles/20110118/02101312707/us-pat...
Twitter is being sued by a patent attorney who has a patent on "a method and system for creating an interactive virtual community of famous people."
http://www.techdirt.com/articles/20110120/14171312745/lettin...
Google came out with a new video format called WebM. The bought the company that developed it, and bought the patents that it uses, even though I claim a file format should not be patentable. Google did this so there could be a better video file format that people can use without worrying about stupid patent lawsuits. The give free licenses for people to use the WebM format. A patent troll called Mpeg LA has been advertising for people who have patents that might conceivably be related to the WebM file format so they can sue Google. They're not suing yet, though, I guess because they can make more money if they wait for a bunch of companies to commit to the WebM format. This is illegal but common practice in the patent suit business.
http://arstechnica.com/web/news/2011/02/mpeg-la-starts-the-s...
Google is one of the few large companies that has a good policy on patents.
http://googleblog.blogspot.com/2011/04/patents-and-innovatio...
Bill Gates at Microsoft used to share this viewpoint, but Microsoft has since changed its position on suing people for patent infringement.
http://www.nytimes.com/2007/06/09/opinion/09lee.html
http://www.nytimes.com/2005/07/31/business/yourmoney/31digi.html
Jay Walker, Priceline Founder, has become a hopeful patent troll, if not a very rational one. He is suing Microsoft, eBay, Amazon, Facebook, WalMart, Groupon, Apple, Sony, Google, and about 100 other successful internet businesses who, he says, "can trace their genesis to technology that was first developed at Walker Digital." This is quite odd, since Walker Digital was founded in 1994, long after many of these companies were founded.
http://www.businesswire.com/news/home/20110412006137/en/Walk...
http://www.techdirt.com/articles/20110414/00445913887/jay-wa...
Nintendo was accused of violating a patent before that patent was even applied for.
http://www.techdirt.com/articles/20110908/09364115848/ninten...
Apple was sued for "automatically resetting a computer to a preferred configuration by executing system configuration instructions in dependence upon a comparison of prior computer status to the current condition of the computer." What else should you do when there is a configuration problem? Set it to some random setting?
http://arstechnica.com/apple/news/2011/08/patent-troll-targe...
Google has patented any linked list with more than one set of links in the list. This is taught in fundamental Computer Science, about the first or second year. The USPTO examiners apparently didn't get that far.
http://www.google.com/patents?id=26aJAAAAEBAJ
There was a patent reform bill passed in September 2011, but it was largely gutted before it was voted on, according to the wishes of patent trolls, pharmaceutical companies, and other patent fans.
http://arstechnica.com/tech-policy/news/2011/09/mostly-point...
Even so, one patent troll went out and sued 680 people in 51 cases the date before it was signed into law.
http://www.techdirt.com/articles/20110921/11020016039/day-be...
To their credit, the USPTO did reject two patents by Rambus (
http://en.wikipedia.org/wiki/Rambus
), a company that sues computer memory manufacturers. Unfortunately, this was
after
Rambus won used the patents to win lawsuits against Nvidia and HP.
http://www.techdirt.com/articles/20110912/15173615914/uspto-...
http://www.theinquirer.net/inquirer/news/2108615/uspto-decid...
How does the U.S. Patent and Trademark Office intend to deal with the plethora of stupid patents? They issue more patents. That makes them more powerful, after all. From 2009 to 2010, they increased the number of patents issued by 31%.
http://www.patentlyo.com/patent/2011/01/uspto-patent-grants.html
I have mentioned this before, but I think it bears repeating. Intel has required that, in order to get $2.5 million Intel-funded research centers, universities agree to not file patents and to publish all patentable inventions, and that all significant software developed in the course of conducting research will be released under an open source license.
http://www.innovationexcellence.com/blog/2011/09/12/intel-to...